PVC 0.76 - Clear + Spot White (PVC Range)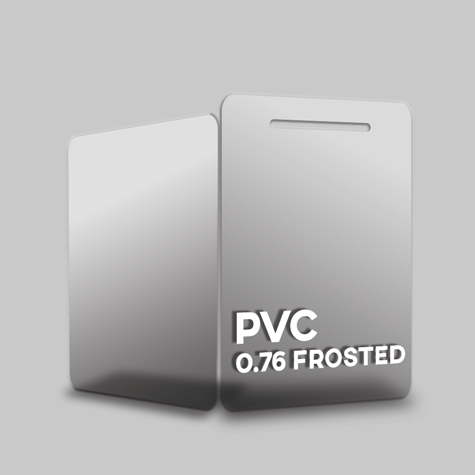 PVC 0.76 - Clear + Spot White

Our Clear PVC with Spot White included is 0.76mm thick and with a Matt finish for protection of the clear surface, edgy has never been so safe. At a standard size of 85.5x54mm with 3mm rounded corners (the size of a standard credit card) our PVC cards have the additional option of adding serial numbering in either gold / silver overprint or embossing. There is also the option to add signature panels and either a lanyard hole or circular hole. The ultimate in customisation.

Amazononline believes that building your brand is really important for your business regardless of the industry you are in. We make it easy with our FREE online design editor and access to thousands of FREE design templates to help make your business to stand out from the crowd into today's marketplace.

If you are in need of a customised design for the PVC Range, select our graphic design service and submit your design brief. Our graphic design team will get back to you with a highly creative solution.

Our Standard turnaround on PVC 0.76 - Clear + Spot White is 19 days from being dispatched from our warehouse. If you are in Warrnambool or around the area (Portland, Hamilton, Terang, Camperdown), you will have the option to pick up the order. We also deliver Australia wide via TNT / Startrack network which is generally 1 - 2 days.

Please contact us directly if you require urgent or a faster turn-around of the PVC Range 0.76 - Clear + Spot White or our other PVC Range products, some of our products are printed the next day, so we are able to get the order to your door quicker.

Size
Quantity
Price
Card 85.5 x 54 + SW
250
$ 891.00
300
$ 910.80
400
$ 954.80
500
$ 976.80
1000
$ 1,194.60
2000
$ 1,799.60
2500
$ 2,081.20
3000
$ 2,406.80
4000
$ 2,800.60
5000
$ 2,930.40
6000
$ 3,410.00
7000
$ 3,891.80
8000
$ 4,419.80
9000
$ 4,899.40
10000
$ 5,295.40
View More
Download free templates to assist you in creating your artwork.
| | | |
| --- | --- | --- |
| Standard 85.5 x 54 - 3mm | | |