SEG Lightbox Hardware (SEG Lightboxes)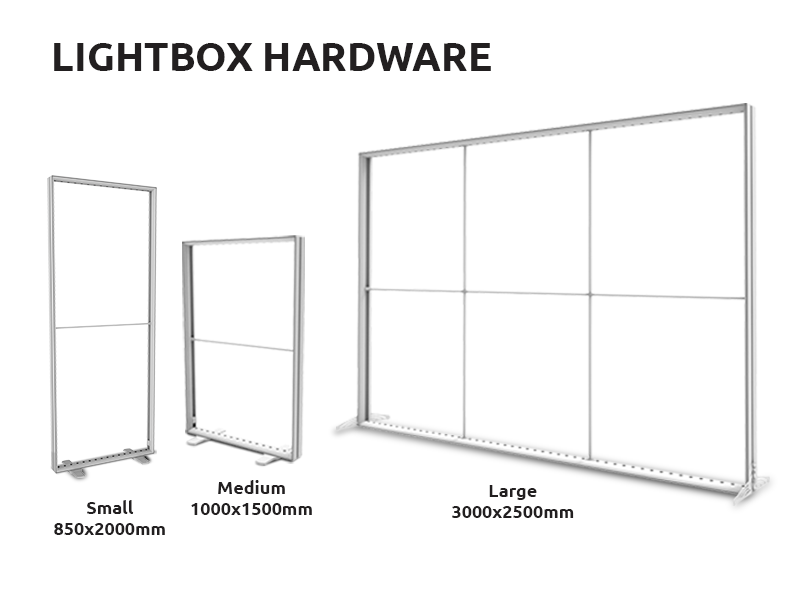 Amazononline believes that building your brand is really important for your business regardless of the industry you are in. We make it easy with our FREE online design editor and access to thousands of FREE design templates to help make your business to stand out from the crowd into todays marketplace.
Our SEG Lightboxes are the perfect portable indoor display. They are lightweight, quick to assemble & pack down into an easy-to-carry padded box. They have a light functionality that creates a tone that makes them stand out amongst a sea of other indoor displays.

Features
Our Lightboxes have been manufactured with modular capabilities & with the use of our multitude of connectors you can build an epic Lightbox display that connects multiple walls & additional accessories.

<<<< Click my image to enlarge my connectors & accessories,
& Click here to watch a quick demo.

Click here to watch a quick assembly demonstration.

Our frames are PVC structure with a 120mm profile. The included feet on our small & medium frames are PVC, whilst our Large frame has solid steel feet for extra stability.

Warranty
The PVC Profile & LED Lights (3W) come with a One Year Warranty

Standard EDD: 8 working days from 12pm cut off

Sizes Available (WxH)
Please Note: Our SEG Lightboxes can be laid both horizontally & vertically as the frame has the functionality to fit the feet on any side.
Small: 850x2000mm
Medium: 1000x1500mm
Large: 3000x2500mm.

GST & Delivery not Included
Download free templates to assist you in creating your artwork.
| | | |
| --- | --- | --- |
| Small: 850 x 2000mm | | |
| Medium: 1000 x 1500mm | | |
| Large: 3000 x 2500mm | | |